fit mums postnatal fitness
This is more than just an exercise class, this is a rehabilitation class.
This is not a Pilates class, not a kettlebell class, not a high intensity class, not a weightlifting class, not a cardio class- this is all of the above and whatever you want it to be.
FitMums classes are designed and taught by Women's Health Physio Laura Cullen.
Prior to joining the class you will have a 30 minute consultation with Laura, this appointment will be specific to you and your birth. We may discuss massage to your cesarean scar or general abdomen, advice on how to aid healing of your diastasis or specific guidance on your pelvic floor. It will involve a small home exercise plan which we will go through.
General and obstetric health will be discussed in detail and baseline measures will also be taken. The whole appointment is designed to ensure you get the most out of the classes whilst remaining safe.
At your 1:1 you will be given a laminated weekly food planner, and dry wipe pen, to help you to maintain a healthy balanced diet which is essential to your recovery and rehab. You will also have access to a Fit Mums Facebook group which will include everyone taking part in your block, through this we will provide bits of homework and healthy eating tips, whilst providing a platform for discussion and motivation between the group.
Think of the class as small group personalised training. After a warm up, we engage our cores with some pilates- this will start basic and increase in difficulty over the 8 week period. We follow this with some high intensity exercise which is challenging within your individual limits and over before you know it! Your instructor is on hand at all times for guidance, motivation and baby entertainment, and the hour is wrapped up with a group cool down and stretch.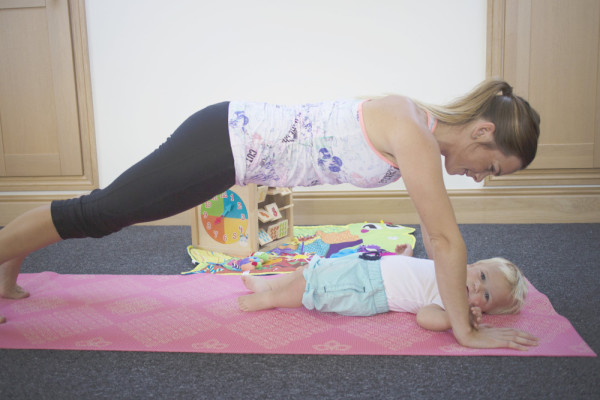 To allow adequate time for each of you the class is limited to 7 or 8 participants. The classes run on Tuesday's and Thursday's in Newquay.
The pre-class assessment with Laura, based in Newquay, is priced £15 and is a prerequisite to joining. While the block of 8 classes is £65.
For details on the next block and to book click here.
An alternative to the post-natal rehab class is to have a full 1 hour 1:1 postnatal assessment, during this Laura will prescribe exercises for you to do at home. You can then follow this up with monthly check-ins where Laura can reassess, progress the programme and set new goals. Full 1 hour postnatal assessment with Laura Cullen, Physiotherapist, £45